A GARDEN DESIGNER'S BLOG by Tracy Foster
June 2017
Find out all about the Chelsea garden for Welcome to Yorkshire on Houzzo.
January 2017
At last! Our Chelsea garden for Welcome to Yorkshire has been announced!
It has a coastal theme so the late summer and autumn have been filled with trips out to our wonderful Yorkshire coastline to gather ideas and study details.
February and March will be busy with quarry visits, plant hunting and trips to check on the trees and shrubs selected in the Autumn.
It's fabulous to be working with Richard Clegg (stone walling) and Julie Cope (artist) once again and we hope to create something truly special and memorable.

Follow us on FACEBOOK to see how things are going!
August 2015 - another show garden! We are creating another wonderful show garden for HEDGEHOG STREET to show people how easy it is to help stop the decline in hedgehog numbers.
Come and see us in Harrogate at the WI Centennial Fair between 3rd and 6th September 2015.

You can see pictures of the build in progress and follow the preparations by following Tracy Foster Garden Design on Facebook - just like our page and you will get regular updates.

------------------------------------------------------------------------------------------
I Have arrived at my temporary home in Kingston Upon Thames. I'll be here until 17th June when I re-locate to Hampton. I will be regularly updating my facebook page - please follow me on face-book by liking my page to see regular pictres and updates.

HAMPTON COURT - HERE I COME!
2015 promises to be another exciting year with a garden planned at Hampton Court to show how much fun retirement can be!

We will also be appearing at the show to celebrate the centenary of the WI in Harrogate - more on that later, and doing some conservation work with the Hedgehog Street project.

-------------------------------------------------------------------------------
As August is feeling distinctly like autumn, it could be a good time to look around the garden and decide what you'd like to change for next year.
That might mean changing the planting in one or two beds, or it might mean major changes throughout. Either way, you might benefit from a little Garden Design tuition.
Short Courses in Leeds for 2014

The ever popular 'Design Your Own Garden' course is back!
A comfortable North Leeds venue will host the eight 2 hour sessions covering everything from how to survey your garden to choosing paving and designing a planting scheme.
Small classes of just 8 to 12 people ensure that you get plenty of individual attention and support and the atmosphere is friendly and supportive.
The cost is just 160 for all sessions.
Want to know more? Contact us for details or to enrol. But be quick - places are going fast.

HEDGEHOG STREET GARDEN BLOG by Tracy Foster


The story of our show garden at Hampton Court
Friday 11th July
The Hedgehog Street Garden was voted the best small garden at the show in the People's Choice Award. Thank you to everyone who voted :)
Monday 7th July
*********** WE GOT GOLD! *********
Thanks to an amazing team of hard working people.
The press and photographers loved the garden and we were busy all day, especially with our special visitors - the hedgehogs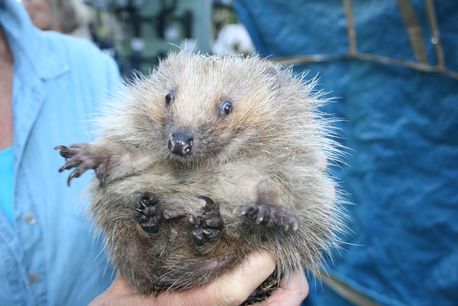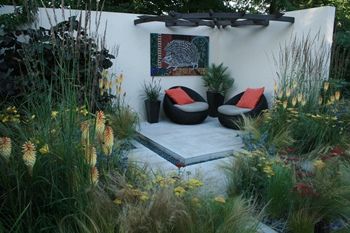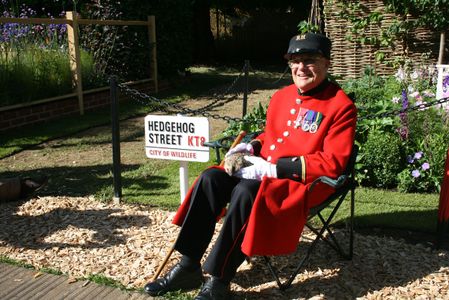 Sunday 6th July

Nerve wracking moments as the assessors descended upon us!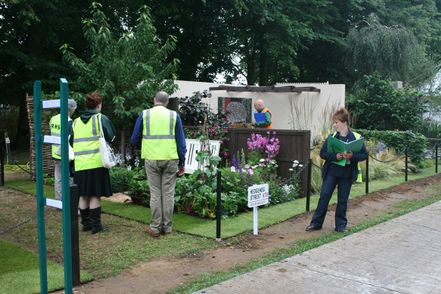 Today was a day of final adjustments and tidying up. I have to be on the garden at 6.30 tomorrow for the BBC to film so I finished work early at 7.30pm.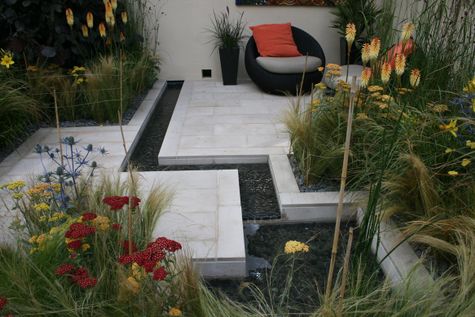 Saturday 5th July

We arrived this morning to be greeted by the sight of a miserable looking rain flattened garden. Thankfully the sun came out soon after and the plants begain to dry out and look lovely and airy again.
With a large team on site today each doing their own special job, the final touches were put in place. Here's what everyone got up to:

Anthea - creator of veg garden
Sue - beautiful back wall and planting
Mary - grass care and border dressing
John - turf laying and fence paint improvements
Jane - Moss washing (!) being lovely and cheerful and helping everyone
Cormac and Roland - visitor barrier and street sign
Mark - water feature
Me - final adjustments to planting
And all helped everyone else when needed!

Furniture and rill covered over to keep off tree debris, the three garden sections are almost done.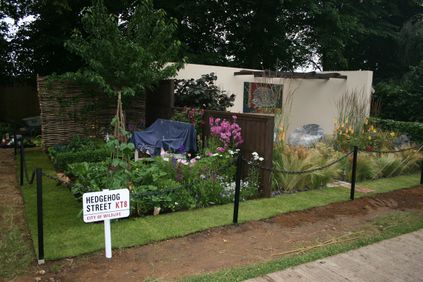 Friday 4th July
An early start - 5am to be at the nursery when it opened at 6am, then off to buy pebbles before spending a day planting, planting, planting! Volunteers Jane, Anthea, John and Mary are now helping so things are beginning to change quickly.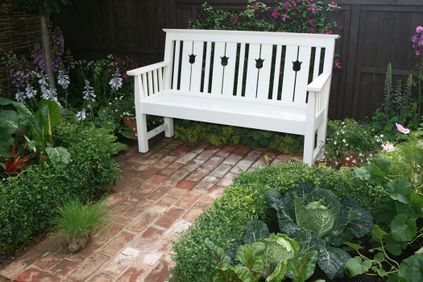 Wednesday 2nd July
The day began with an expedition out into the Surrey countryside to get a few necessary plants. We also found some lovely logs to stack up in the wildlife garden.
Planting is a slow process, with each plant being placed to look its best and to create a natural effect, but the beds in the Traditional garden section are all in (yippee!) and the 'lawn' in the wildlife garden is almost done.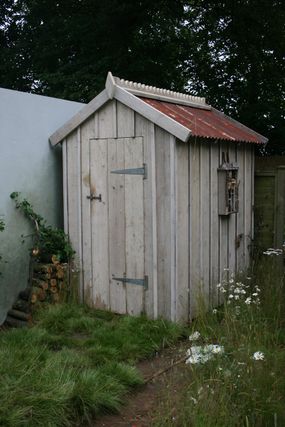 Volunteers (but expert gardeners) Francesca and Jane worked tirelessly!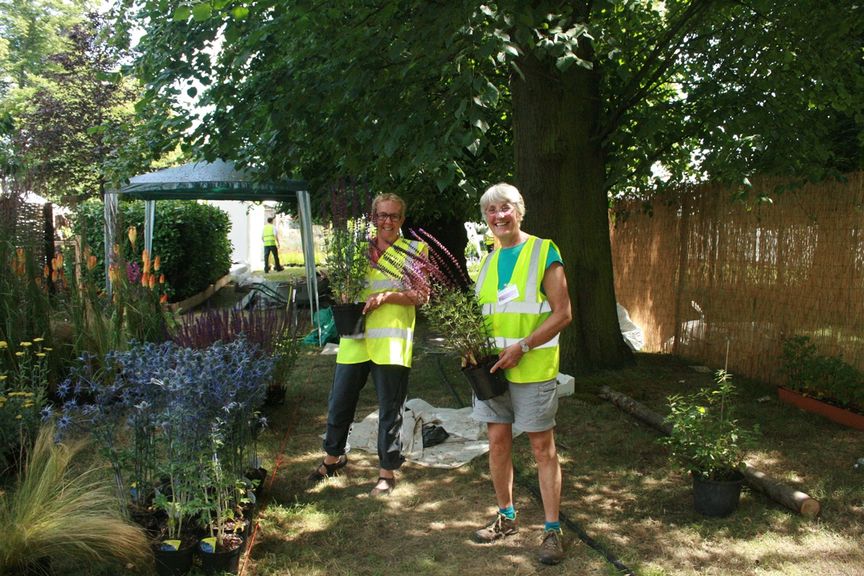 Tuesday 1st July
Planting is in full swing. We have trimmed hedges and put a final coat of paint on the pergola. Feeling exhausted!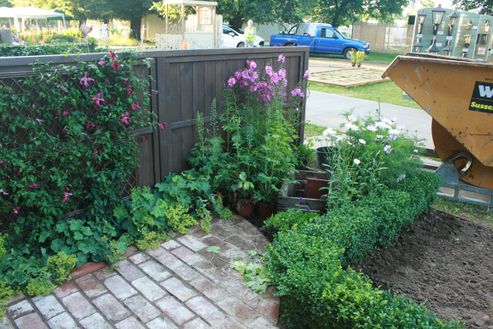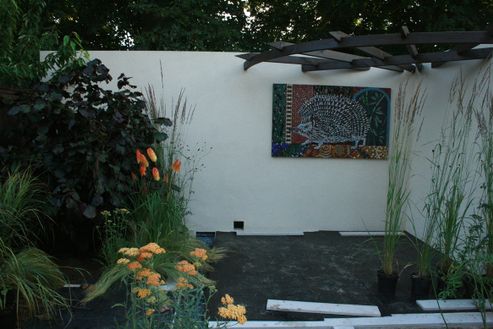 Monday 30th June
Wonderful, wonderful plants arrived from Hardys Cottage Garden Plants all looking healthy and beautiful. Now there is the task of looking after them all. The telegraph photographer popped in to take pictures for an article about our garden to appear in the newspaper on Saturday 5th July. With un-brushed hair (no comb) and an orange hi viz vest I suspect the end result may not be terribly flattering. Our Hedgehog Street sign did feature in the pictures though!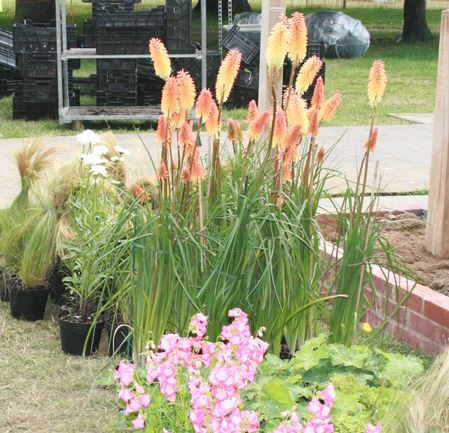 The final landscaping jobs were done, box hedging planted, fence painted and mosaic hung.The main job now is the planting.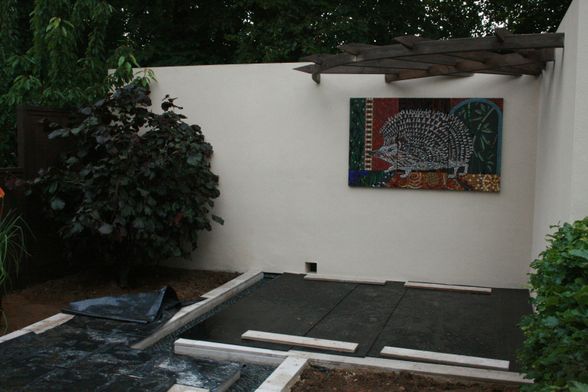 Sunday 29th June

Jackdaws had found and broken into the hedgehog food when we arrived this morning and a huge Jackdaw party was in full swing.
Another good reason to use a hedgehog feeding box!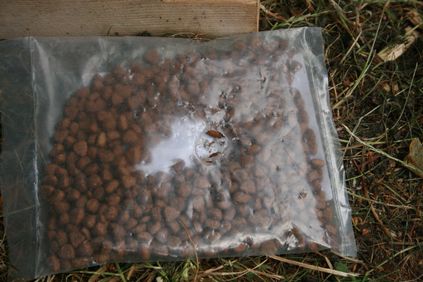 So much to do and so little time... so inevitably we are delayed. Tomorrow at 8am plants will arrive on site and the landscape team will still be here too so it could be interesting!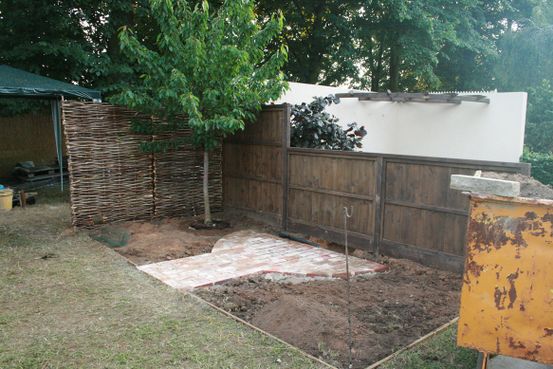 Saturday 28th JuneSo far we have been incredibly lucky with the weather but this afternoon a great deluge of rain lashed down. Thankfully our shed is almost made and has a roof so there was shelter! Pictured here, our lovely hand made shed with Phil, its creator.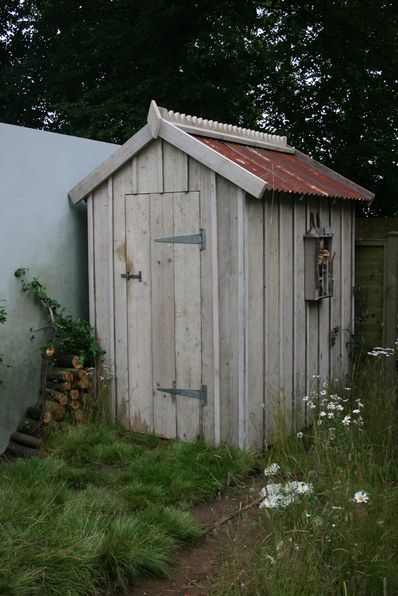 Work slowed down as it is hard to paint, point or stain in the rain.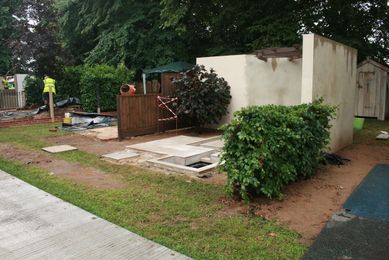 Friday 27th June
I can't believe it's friday already!
Our tree, shrub and hedge arrived whilst paving was being laid. The hedge was put in place although the rock hard ground was just too much for Don's spade so Cormac procured a slightly more serious tool from somehwere!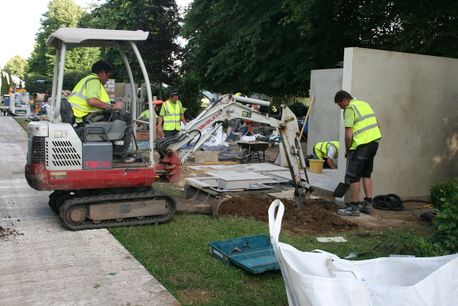 By the end of the day the central garden was really taking shape.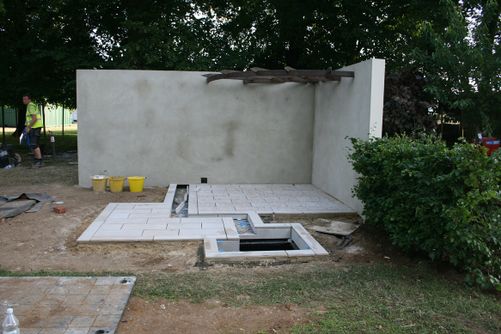 Thursday 26th June
After another long and busy day, great advances have been made! The rendering looks very smart and pristine wit its final coat, our water feature is in place, the brick path is built and shed construction is underway.
Lovely Wildflower turf arrived from Lindum along with box hedges, and chairs from Go Modern delivered personally by Emily of the PTES. All in all, a good day!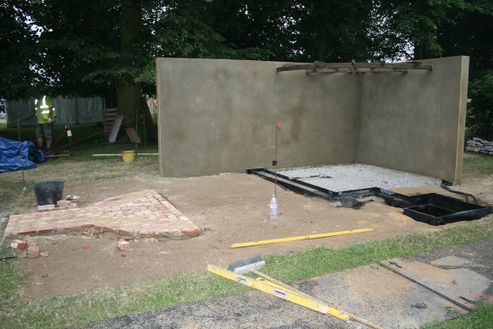 Wednesday 25th June
The huge job of rendering our wall has commenced - it's looking good so far!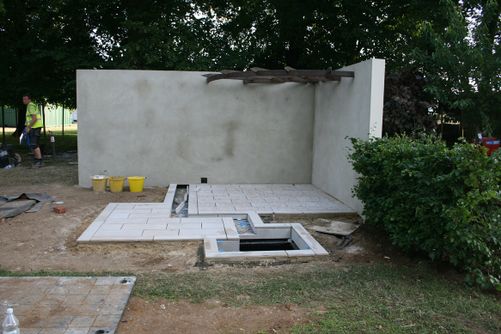 Can you spot the first hedgehog hole?
I sneaked off to look around some nurseries and couldn't resist buying a few plants.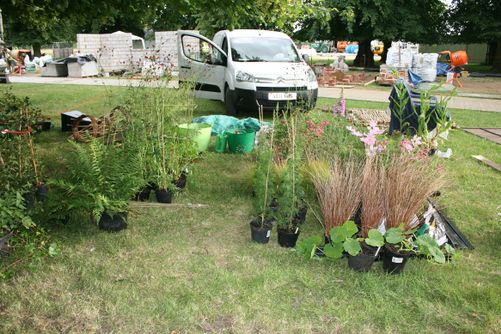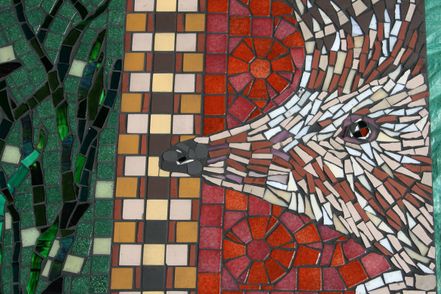 Hurrah! On site at last with Conway Landscapes.

Plants looked relieved to be out of the van and I'm happy to report that all survived the journey including the stinging nettle which I have managed to brush against multiple times during the day. Ouch!

A brisk pace of work from Cormac and the team saw our dusty rectangle of ground begin its metamorphosis. The main target for the day was to build the back wall in preparation for rendering in the morning.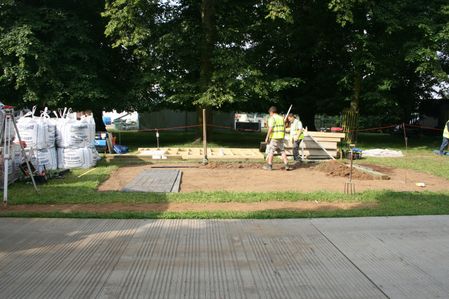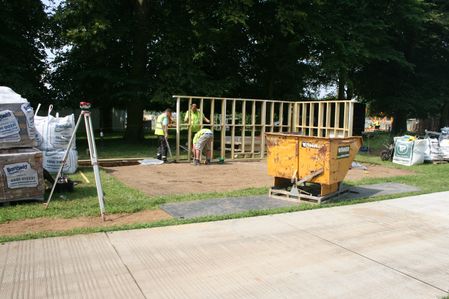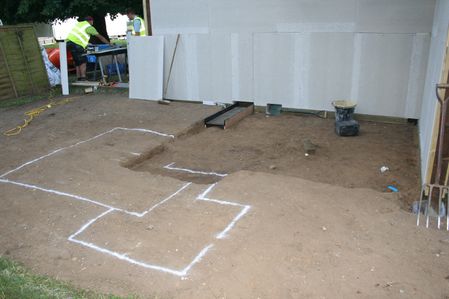 At the end of the day as I wearily left the site I caught sight of a green woodpecker as it flew over my van and passed the grazing deer. This is a truly lovely place to work.


Monday 23rd June 2014
Packing the van ready for the drive down from Leeds. It's amazing what you can squeeze into a Citroen Berlingo van.

Sunday 22nd June 2014
Our mosaic is ready! It's fantastic - thanks to Julie Cope, she is THE most talented lady.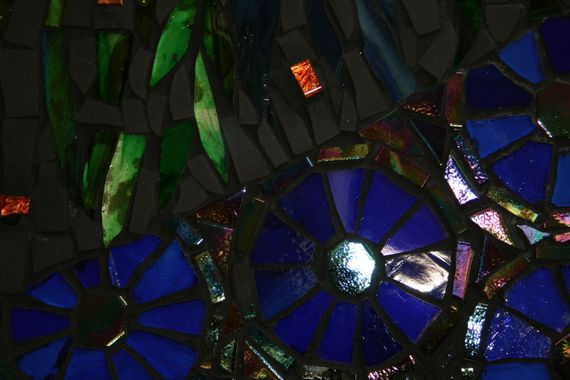 Here's just a little bit - I don't want to spoil the surprise!

Saturday 21st June 2014
Technology permitting (meaning my technical abilities permitting) I will post an update every day from now until the garden is built.
Today's jobs include: deadheading Violas, scraping up moss off pavements, moving plants out of the sun to try to hold back flowers and fussing over my wild plants (aka nettles and brambles).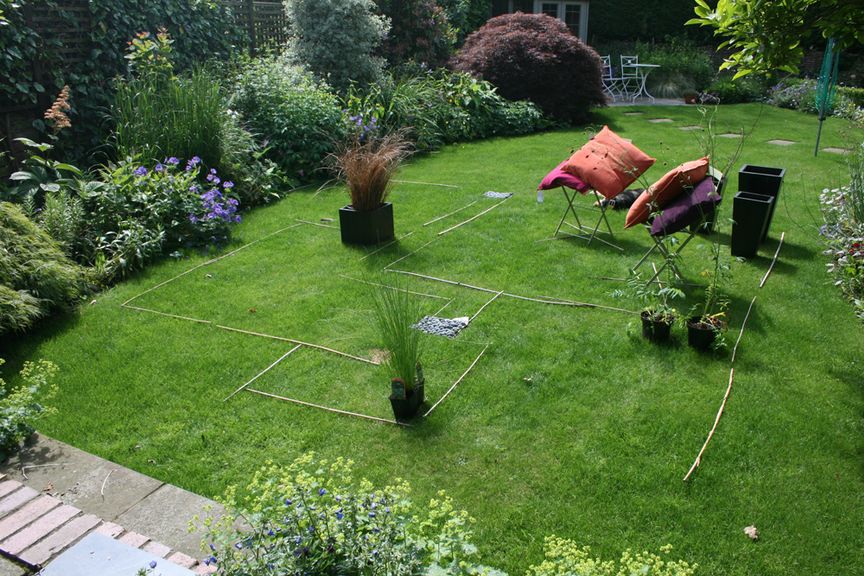 part of the show garden marked out with canes at the back of my house last weekend. Without the actual plants, chairs, water, wall or pretty much anything so lots of imagination needed to visualise the finished product.

Thursday 19th June 2014

The Hedgehog Street Garden is about to be built!

After several months of planning and organisation the big day is approaching.
On tuesday 24th June we will arrive at Hampton Court Palace to build it. Can't wait to get started!

The show runs from 8th to 13th July.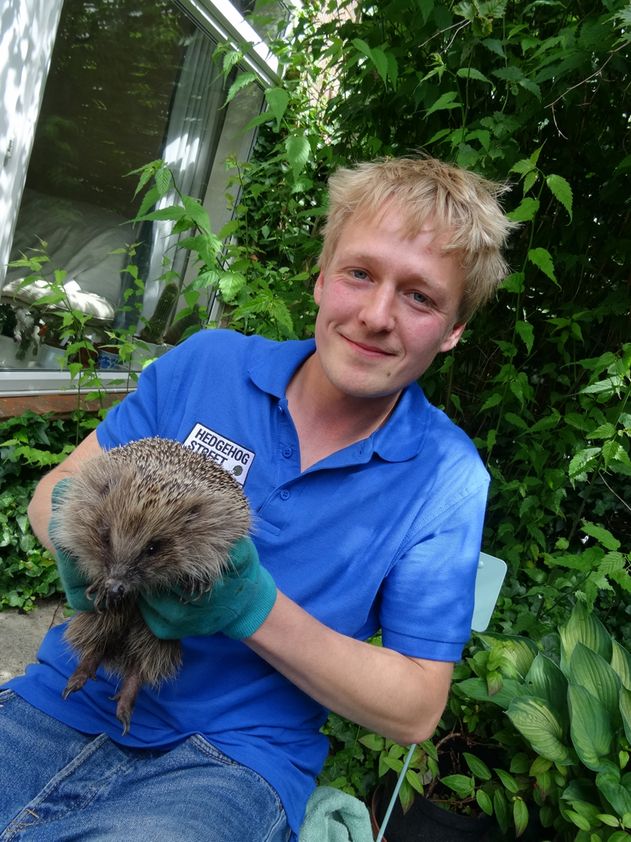 Picture shows Henry Johnson the Hedgehog Officer at the People's Trust For Endangered Species with a lovely adult hedgehog